When we last left our insipid heroine, her manipulative and deeply unpleasant boyfriend had just been reported missing, but apparently this is a bad thing and not cause to celebrate. And so, with our fingers crossed that he died in the middle of an angry strangle-wank, onwards we go to Volume 12.
(Catch up: Vol.
1,
2,
3,
4
,
5
,
6
,
7
,
8
,
9
,
10
aaaand
11
)
The next chapter opens with Ana staring at the fireplace in Christian's apartment, while pretty much every other character in the book is milling around quietly in the background, being worried and watching the news coverage, which includes rolling headlines declaring CHRISTIAN GREY MISSING. But all these other people, such as Christian's parents and siblings, are a mere backdrop to Ana's pain and inner turmoil. Ana is replaying conversations with Christian in her head, things like
"Carpe diem, Ana", "You're my lifeline"
and other things he's said between bouts of being furious with her.
It's all very serious, you guys. Because Christian has been missing...
FOR EIGHT HOURS.
EIGHT FUCKING HOURS. THAT DOESN'T COUNT AS MISSING. WHAT IS WRONG WITH THESE PEOPLE. LITERALLY NO TIME HAS PASSED SINCE THE LAST CHAPTER ENDED. I FEEL LIKE I'M TAKING CRAZY PILLS.
It's one of the dumbest fucking things to happen so far and this is Fifty Shades we're talking about here. It's wall-to-wall dumb shit, but this one takes the fucking cake. And then licks it so no one else can have any.
At one point Mia, the girl whose
brother
is missing ("missing") comes to sit beside Ana and comfort her, some bird he's known for all of five weeks. I can't help but feel that that should be the other way around. But anyway.
"He will come back," she says, her voice initially determined but cracking on the last word. Her eyes are wide and red-rimmed, her face pale and pinched from lack of sleep.
Lack of sleep. It's around half eleven on a Friday night at this point. SHE WOULDN'T HAVE EVEN GONE TO BED YET SO HOW IS SHE PINCHED FROM LACK OF FUCKING SLEEP THAT SHE WOULDN'T HAVE HAD IN THE FIRST PLACE? RIDDLE ME THAT, EL FUCKFACE.
Seriously, if that editor hasn't been tied up or kidnapped or chloroformed, then they have a lot of explaining to do. Like, A LOT.
Ana continues to wring her hands over Christian being gone for what is an average work day, thinking about how super brilliant he is.
He is so many people: control freak, CEO, stalker, sex god, Dom - and at the same time - such a boy with his toys. I smile. His car, his boat, his plane...Charlie Tango... no... no...
I feel like someone needs to take her aside and explain that "stalker" and "control freak" are not actually good character traits in a boyfriend, particularly when the "control freak" aspect tends to be concerned with her job, what she wears, who she socialises with and her menstrual cycle. Also, I quite like how Ana's strained
"Charlie Tango...no"
sounds as though she's more upset over the helicopter than anything else.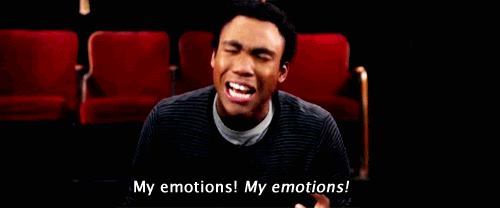 Anyway, Christian eventually turns up, because of course he's not dead, such is our luck. His family all start crying, everyone is delighted to see him and Christian is completely bewildered. Join the club, dude. But not so bewildered that he doesn't find something to get mad at Ana for. Of course.
He looks up and scans the room until his eyes lock with mine. He blinks and glances briefly at José, who lets go of my hand. Christian's mouth tightens.
How DARE she hold the hand of her male friend while thinking her horrible boyfriend might be dead? She's probably pregnant with José's Latino baby by now.
But never mind all THAT!
He spies Taylor hovering at the entrance and nods. Taylor nods back.
"Your daughter?"
"She's fine now. False alarm, sir."
"Good." Christian smiles.
Daughter? What happened to Taylor's daughter?
WHAT THE HELL YOU GUYS? What HAPPENED? I can't believe we were stuck with Ana moping around, staring at a fire and putting us through her and Christian's dumbass conversations while there was actual excitement involving Taylor going on elsewhere! GODDAMMIT!
Anyway, Christian explains that he was flying back from Vancouver in the helicopter with his assistant, Ros (who?), they took a detour to see Mount St. Helens, when a fire broke out in the tail of the helicopter. He had to make an emergency landing and managed to put the fire out.
"How did you put out the fire?" asks Kate, her Carla Bernstein instincts kicking in. Jeez, she sounds terse sometimes.
And you sound like a fucking insufferable idiot ALL THE TIME. Also, there's no famous person called Carla Bernstein. When you Google the name, the first result is for the investigative reporter Carl Bernstein, who was instrumental in breaking the Watergate scandal and wrote
All The President's Men
. Other than that, there's a health worker in Queensland, Australia called Carla Bernstein, but I don't think that's who EL James meant. So. Yeah. If only there were some female reporters that she could have used as a reference instead. It might have actually made sense then.
"
How did you put out the fire?" asks Kate, her April O'Neil from Teenage Mutant Ninja Turtles instincts kicking in."
There. Fixed it for you.
Christian continues, and tells them that they couldn't radio for help because the electronics on Charlie Tango were out, there was no coverage for them to call anyone on either of their mobiles, so they ended up making their way to the nearest road.
"It took us four hours to walk there. Ros was in heels." Christian's mouth presses into a disapproving flat line.
Oh, so he's a judgemental dick to women he isn't actually banging, too. That's interesting.
Once they got as far as the road, a truck driver then picked them up and gave them a lift as far as Seattle, but apparently he didn't have a phone (because long-haul drivers don't need to communicate with anyone, ever! This is
definitely
real life) so they still couldn't call anyone to explain why they hadn't arrived when their flight plan said they would. Oh, and they couldn't stop to make a call at any point because Christian was so anxious to be back. Because José was staying over. And clearly Ana can't be trusted not to immediately have sex with the first penis waved in front of her when Christian isn't around.
Everyone goes home and José goes to bed, because being left in a room with Christian and Ana eye-fucking each other and CONSTANTLY MUMBLING legally counts as torture under the UN Declaration of Human Rights. Christian takes the gift box that Ana gave him earlier that week out of his jacket pocket and Ana tells him he can open it, because it's after midnight and technically his birthday. Inside is a crappy souvenir LED keyring, but it's flashing the word YES on one side. Yaaay, she's going to marry him. It's such a good idea.
He inhales sharply and moves suddenly, grabbing me and swinging me round in a most un-Fiftylike manner. He's laughing, young and carefree, radiating joyful elation.
Him being happy is
"most un-Fiftylike"
and out of character for him. Why
wouldn't
you want to marry someone who's absolutely zero fucking craic to be around 90% of the time?
So Christian is all delighted and then realises that she had obviously made up her mind a few days previously, before going to see Dr. Flynn, during which time he had been hassling her for an answer, so she was deliberately leaving him hanging.
"I believe some retribution is in order, Miss Steele," he says softly.
Retribution? Oh shit! I know he's playing - but I take a cautious step back from him anyway.
Ah yes. Love is...taking a cautious step back from your partner because you're not 100% certain that he won't fly off the handle and beat the shit out of you. AWESOME.
Christian picks Ana up, throws her over his shoulder and brings her into the bathroom. He pauses to take his phone, wallet and keys out of his pockets and turns the shower on so they both get soaked with cold water and it all sounds highly unpleasant, if you ask me. And I guess it's just as well Ana didn't have anything in her pockets that would get damaged by water, but even if she did, her possessions and feelings don't actually matter, as long as Christian is happy.
They undress each other and Ana grabs the body wash, which has been an ever-present smell throughout this book.
He smells of fresh laundry, body wash, and Christian - the most calming and arousing scent on the planet.
He smells of linen, fabric softener, body wash, and my favorite smell - Christian.
He smells outdoorsy, slightly sweaty, of body wash, and Christian, the most welcome scent in the world.
Those are genuinely three separate lines from this book. Christian constantly smells like body wash and Christian. Even after a helicopter crash landing, putting out a fire, walking through backwoods for four hours and being in a truck for six hours. It's pretty pungent stuff.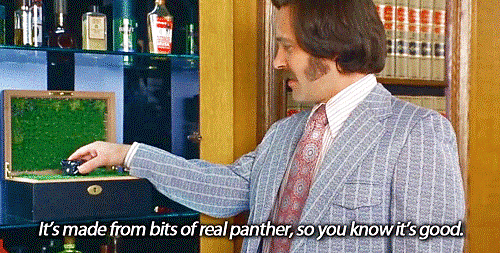 Anyway, they bang in the shower and because it's Saturday, Ana's contraceptive injection has kicked in so we're spared the "telltale rip of the foil packet", THANK FUCK.
The next morning, Ana wakes up before Christian, and decides to make breakfast for him, as it's his birthday. She goes out into the kitchen, to find José eating cereal.
I can't help but flush when I see him. He knows I've spent the night with Christian. Why do I suddenly feel so shy? It's not as if I'm naked or anything. I'm wearing my silk floor-length wrap.
UGH. SHUT THE FUCK UP.
"Morning, José," I smile, brazening it out.
(What the fuck is there to "brazen out" exactly? He's not your mother, you're a grown ass woman. Technically.)
"Hey, Ana!" His face lights up, genuinely pleased to see me. There's no hint of teasing or salacious contempt in his expression.
BECAUSE HE'S AN ADULT AND EVERYONE ISN'T AS FASCINATED BY YOUR SEX LIFE AS YOU SEEM TO THINK, YOU GOWL.
José observes that Ana is really into Christian and when she tells him that she's in love, he jokes
"What's not to love?"
while gesturing around the enormous apartment.
Hmm... will I always have this leveled at me? That I'm marrying Christian for his money?
Yes.
Also, yet another annoying thing about Ana is the amount of times she says
"Hmm..."
It comes off as such lazy, filler-type writing. The word "Hmm" appears 55 times in this book. FIFTY FIVE. FIFTY FIVE FUCKING SHADES OF HMMM. It's like EL James has a bag of word magnets, fires a handful at the fridge door and writes down the results. The repetition in this series might actually be impressive if it didn't make me want to fling every copy of this book into the sea.
Ana changes the subject and offers to make an omlette for José,
"I don't want to argue"
she thinks, despite the fact that no one is arguing, you clown. Christian appears in the kitchen, wearing only pyjama bottoms
"that hang in that totally hot way off his hips - Jeez!"
EVERYONE FINISH YOUR DRINK.
He proceeds to shift the face off Ana, to make things as uncomfortable as possible and manages to stop short of peeing on her and growling at José. He chills out when José mentions a fishing trip he's going on with his dad and the pair of them chat about that for a while.
Aaand we're going to leave it there for this week, because I'm out of booze. And patience.