Thanks everybody who voted for me in the Blog Awards! You can vote once a week, so any more votes you could throw my way would be HUGELY appreciated. (
Click here for the voting page.
) I had a lovely big leap in votes the last time I posted, but now I'm about 300 votes behind the leader, so another jump would be AMAZING. And the deal from last time still stands, if I somehow manage to win this thing, then I'll read and review Fifty Shades Darker and get furious with it here and invent new swearwords to describe Christian and Ana for your entertainment. I PROMISE.
Catch up: Volumes
1,
2,
3,
4
,
5
,
6
,
7
,
8
and
9
.
Ana eventually arrives in Georgia without the plane crashing, despite the fact that she left her Blackberry on the whole time in order to covertly check her emails like a selfish bitch to whom the rules don't apply. She meets her mother at the airport and immediately starts crying. This is the eighth time she has burst into tears so far and it's by no means the last.
They go to the beach together and Ana's mother asks her to tell her about this man that has her
"in such a spin"
.
"How can she tell?"
wonders a typically bewildered Ana, when really it's hardly rocket science since every time she's spoken to her so far in the book she's been bawling crying.
"He's very complicated and mercurial."
says Ana. Mercurial. Who the fuck talks like that to their mother?
"Well, how's things with this new fella of yours?"
"Jaysus Mam, he's fierce mercurial altogether."
Right.
Let's have ourselves a little word count as to the ways in which Christian is described throughout the book.
Mercurial: 5
Beguiling: 3
Handsome: 5
Hot: 13 (
"freaking hot"
: 4)
Beautiful: 30
A despicable psychotic fuckface: 0
Anyway, Ana's mother gives her some stupid fucking advice that isn't "ditch him, because he's a horrible person with no respect for you, your wishes or your privacy", but some bullshit about taking him literally instead of wondering what he means all the time.
"I gaze at my mom. She is on her fourth marriage. Maybe she does know something about men after all."
The more I read this sentence the less sense it makes.
Later that day, as she's getting dressed for dinner at a golf club with her mother and her mother's husband Bob, she exchanges some more emails with Christian that make me roll my eyes more times than the entire cast of this book have, combined. (That's twenty nine, in case you were interested.) It's basically the lamest cybersex ever, consisting of one-line emails about him unzipping her dress and the pair of them changing the subject line of each email to
"Panting"
, then
"Groaning"
and finally
"Moaning"
, before Ana has to leave for dinner and right before I've chewed my arm off in annoyance.
Oh, and just in case you were under the illusion that Ana might actually be wearing her own damn clothes for once, when she comes out of her room, her mother says she looks lovely and the following conversation occurs:
"Oh, this is Kate's dress. You like it?"
Her frown deepens.
"Why are you wearing Kate's dress?"
EXACTLY, ANA'S MA. EXACTLY.
"I'll take you shopping tomorrow," she says.
"Oh, Mom, you don't need to do that. I have plenty of clothes."
Well in that case, stop borrowing Kate's stuff you FUCKING LIAR. The fact that she gets her knickers in a twist over Christian constantly buying expensive things for her might be a little more believeable if she wasn't CONSTANTLY fucking sponging off Kate.
When they get back from dinner, the monotonous email exchange kicks off again, with Christian finishing off by saying he's meeting an old friend for dinner. Ana immediately freaks out because he's probably meeting "Mrs. Robinson", the older woman that seduced him when he was fifteen, who he's now friends with. She does a Google search for Christian in an attempt to find a picture of her and scrolls through EIGHTEEN pages of results like a total fucking nutjob.
During her search, she comes across the photos of Christian that José took for the student paper and wonders
"How did they get on the Internet?"
, because she's a fucking moron. She also finds a picture of herself with Christian that was taken at her graduation and thinks
"Holy cow! I'm on Google!"
. Please just let me physically reach into this book so I can choke a bitch. She emails him asking who he's having dinner with and
"despondently"
goes to bed, like the melodramatic pain in the hole she is.
The next day, after going shopping (let's see if she actually wears anything she owns now), Ana and her mother go for cocktails in a fancy hotel. While her mother is in the bathroom, Ana checks her emails and finds one from Christian, confirming that it was Mrs. Robinson he had dinner with. This sends Ana off into another ridiculous rage, prompting her to angrily order another Cosmopolitan and send him an unhinged message that goes like this:
She's not just an old friend.
Has she found another adolescent boy to sink her teeth into?
Did you get too old for her?
Is that the reason your relationship finished?
His reply is positively chilling.
This is not something I wish to discuss via email.
How many Cosmopolitans are you going to drink?
FUUUUUUUUUCK! He tracked her down and is IN THE HOTEL!
My reaction.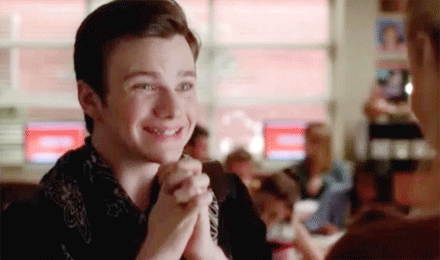 Ana's reaction.
She actually thinks to herself
"He's really here - for me."
, whereas I'd be thinking "Holy fucking Christbags, he's here to murder me." Words cannot describe how much of a twat this girl is. She introduces her mother to him as Carla, and he immediatey calls her Mrs. Adams, when even WE didn't know what Bob's surname was until this point. This man is fucking TERRIFYING.
Anyway, Carla practically wets herself when Christian smiles at her, instead of slamming a mallet into his balls for stalking her daughter halfway across the country and making her cry all the fucking time. Next thing, Ana is suddenly worried that he'll be mad at her for having a drink with her mother.
"We decided on a few cocktails this evening", I mutter, feeling that I owe him some sort of explanation.
YOU DON'T OWE HIM AN EXPLANATION YOU GOWL, YOU'RE A GROWN FUCKING WOMAN. Carla invites him to have dinner with them the following evening and excuses herself so the two of them can talk. Ana goes back to being mad at him for seeing Mrs. Robinson, he explains that they're just friends and that she was a good thing for him at the time and what he needed, and not an evil paedophile like Ana keeps insisting she is. She asks him if he was in love with her, but he doesn't get to answer because Carla has just returned.
"Did he love her? I think if he did, I will lose it, big time."
Because HOW DARE HE have loved someone over TEN YEARS before he ever met Ana. The absolute CHEEK of some people. Christian says goodbye to them and goes back to his room. Carla reckons he's a catch and doesn't seem at all concerned by the fact that he's a stalker because when you're rich and good looking that kind of behaviour is totally romantic, obviously. She even fans herself
"theatrically"
and says
"the UST in here - it's unbearable"
. I had to look up what UST means. The first result is University of Santo Tomas in the Phillipines, but I suppose it's hardly that. The fourth result seems more likely, and it's an entry in the Urban Dictionary.
"Unresolved Sexual Tension. Abreviation used in fanfiction, mainly for X-Files stories, to describe the status in a relationship."
Ah, OF COURSE. You know who reads X-Files fanfiction? NO ONE.*
*Alright, that's probably not entirely true, but you get my point.
(Also, please vote!)